WHO We Are
At Goodnight Goodmorning, we believe that shopping for a bra or swimsuit should be a comfortable and positive experience. We know that many women avoid bra or swimsuit shopping, since many believe there is nothing comfortable and stylish in their size.

You'll be in good hands knowing that our bra-fitting professionals are here to ensure that every customer leaves our store feeling comfortable, sexy, stylish and supported.

Anya (Owner)– With a background in Fashion Design from Sheridan College, end bra fitting training from European bra manufactures Anya is both exceptional bra fitter as well as fashion and style expert.. Upon launching Goodnight Goodmorning in 1998, she not only brought her unique experience and perspective to the business, but also became certified in the specialized area of mastectomy bra fitting. Her experience as both a bra-fitting professional, as well as a fashion designer, allows her to not only be a great bra fitting expert, but also trainee to many best bra fitting expert in the industry.

Ana-Maria (Assistant Manager) – Recognized by clients for her warm and welcoming personality, as well as her extraordinary bra-fitting skills, Ana-Maria is an integral part of the Goodnight Goodmorning team. She received the bulk of her training in the lingerie and swimwear departments of a well-known fashion house in Portugal and has been with Goodnight Goodmorning since she arrived in Canada.

Lorna (Sales Associate) – With a great deal of customer service training in Ireland, along with extensive bra-fitting training at Goodnight Goodmorning, Lorna has played a key role in our success over the last five years. Customers are drawn to her extremely knowledgeable and helpful nature, as well as her ability to make people feel relaxed, confident and at ease when shopping for lingerie.

Olga (Sales Associate) – Trained in Canada, Olga is an experienced bra fitter and fashion adviser, working for over 20 years in the fashion and bra industry. She's extremely knowledgeable about what style and fit of bras and swimwear flatter different body types. Her enthusiasm and passion for lingerie shines bright. Her radiant energy and kind demeanor helps customers relax as she finds the perfect fitting bra or undergarment for any occasion.

Avery (Sales Associate) – In addition to receiving her training in house at Goodnight Goodmorning, Avery is a lingerie designer studying at Ryerson University with her own lingerie line. Her knowledge in bra fitting as well as bra making makes her an exceptional bra fitter. She manages a lingerie blog, as well as running the store's blog and assisting with social media.

Our professional bra-fitting experts receive extensive training for up to six months in the areas of bra styles and manufacturers, body measurements and styling, and ensuring that each client's bra-fitting and shopping experience is as comfortable, simple and successful as possible. Whether you're petite or plus size, we carry bras for every shape, size, and style.

In addition to being passionate about lingerie, we value our connection with the community. We proudly support Halton Women's Shelter and Salvation Army by donating bras and sleepwear to women in need. As well, we support several Breast Cancer charities, including Run for the Cure and the Princess Margaret Hospital, and will continue to do what we can to positively impact the lives of as many people as we can.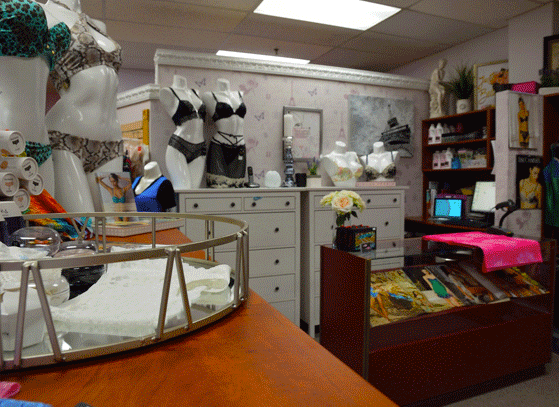 100 Bronte Rd. Unit #3
just South of Lakeshore
Oakville
905-847-1512
goodnightgoodmorning@cogeco.net


AWARDS
OAKVILLE AWARD OF EXCELLENCE
IN BUSINESS – WINNER – 1999
BEST LINGERIE STORE IN OAKVILLE
WINNER – 1999-2017
Hours of Operation
We offer free parking in Stone Boat Quay.
Sunday - 12pm-4pm
Monday - 10am-5pm
Tuesday - 10am-6pm
Wednesday - 10am-6pm
Thursday - 10am-6pm
Friday - 10am-6pm
Saturday - 10am-5pm
(Store hours may change through the Holidays)
After hour appointments available on Wednesday and Thursday between
6 and 7.30.